Mundorf MCap Supreme Silver Gold Capacitors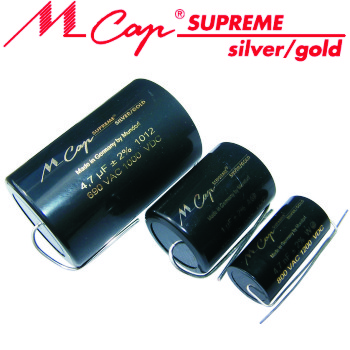 The metallization of the capacitor foil for our MCap® SUPREME silver/gold consists of pure silver with a 1% pure gold mix. Gold alters the crystalline structure of silver and maximises its very good electrical conductivity. The outstanding properties of the MCap® SUPREME - high definition and auditory ambiance of the music playback - are once again audibly enhanced and substantially enriched in finely nuanced timbres through the use of silver/gold.
We are convinced that with this capacitor we have once again lived up to our reputation for innovation and quality as one of the internationally leading manufacturers of audiophile components. The MCap® SUPREME silver/ gold offers speed and precision combine harmonically with beauty and elegance.
Directionality: Due to the induction-free winding technology in Mundirf's supreme ranges, there is not a preferred direction of installation.
Technical specifications:
Dielectric: Polypropylene
Metallisation: 99.99% silver, 1% gold
Purity of silver: min. 99.97% typ. 99.99%
Purity of gold: min. 99.97% typ. 99.99%
Dielectric strengh: 1200 VDC
Loss factor: tan θ = 0.0002 at 1kHz; 0.0001 at 10kHz
Check product pages for exact sizes and price.
Subscribe to Hifi Collective