Mundorf MLytic HC+ Electrolytic Capacitor - DISCONTINUED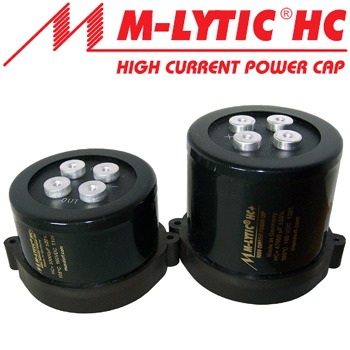 The MLytic® HC and MLytic® HC+ Series is a high current power capacitor that offers ultra-low ESR and ESL, due to a patented internal connection technique.
These capacitors were originally developed for use in locomotives but have now been optimized for audio purposes and designed for heatsink mounting.
They can handle hundreds of amps and can supply extreme pulse currents. Thus, even with massive bass notes the sound is punchy and controlled, flawless.
Additionally with their exceptional speed, the sound is incredibly dynamic and accurate at low frequencies, revealing and highly vivid mids and high frequency reproduction.
The 4-pole technology of the MLytic® HC+ makes the capacitor a must for first class transistor amplifier performance. For more information of this see the data sheet below.
All capacitors include a fixing clamp and have a adhesive base for firm contact to the chassis, simply peel off the cover. The termination is a M6 screw type.
Specifications
Capacitance range 22000uF to 47000uF
Temperature range -25 to +125°C
RoHS compliant, lead-free
Voltage rating 100Vdc
Check product pages for exact sizes and price.
Subscribe to Hifi Collective