Mundorf Mlytic HP+ Electrolytic Capacitors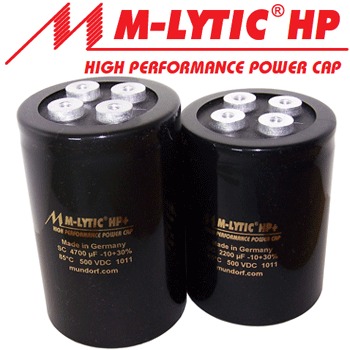 The series MLytic® HP and MLytic® HP + are high-performance power supply capacitors, specifically designed for applications, that operate at high voltages.
These capacitors, which were originally developed for use in lasers and inverters, so they are incredibly powerful. They have a low ESR value and high ripple currents with high voltage, providing large capacitance. The terminals are M6 screw type.
A new innovation for Mundorf is its 4 pole technology. Positive and negative input terminals and positive and negative output terminals. Thus each capacitor has four terminals. This provide superb performance and a long life.
The best high capacitance, high voltage reservoir capacitor currently available, by a long margin.
Please note we have limited stocks of the HP+ capacitors.
Check product pages for exact sizes and price.
Specifications
Capacitance range 1000uF to 6800uF
Temperature range -25 to +125°C
RoHS compliant, lead-free
Voltage rating 500Vdc
Subscribe to Hifi Collective