Mundorf MCap Supreme Silver Gold Oil Capacitors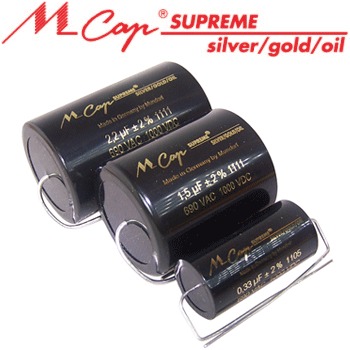 The MCap® SUPREME silver/gold/oil is definitely the top of the line model of our oil impregnated capacitors. In comparison with the Silver/Oil version, it technically features a further extended lifetime. More importantly, sonically the Silver/Gold/Oil version stands out with its wonderful natural voice and exceptional micro-dynamic. Truely amazing.
Directionality: Due to the induction-free winding technology in Mundirf's supreme ranges, there is not a preferred direction of installation.
Capactiance: 0.01uF - 10uF
Voltage: 1200Vdc
Check product pages for exact sizes and price.
Specifications
Dielectric: Polypropylene
Metallisation: 99.99% silver, 1% gold
Purity of silver: min. 99.97% typ. 99.99%
Purity of gold: min. 99.97% typ. 99.99%
Dielectric strengh: 1200 VDC
Loss factor: tan θ = 0.0002 at 1kHz; 0.0001 at 10kHz
Subscribe to Hifi Collective