Mundorf MCap Supreme EVO Silver Gold Oil Capacitors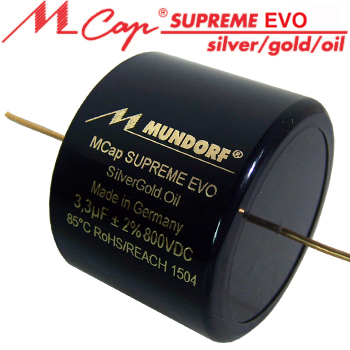 Since 2015, the MCap® SUPREME EVO Silver Gold and MCap® SUPREME EVO Silver Gold Oil have been Mundorf`s undisputed top capacitor model. It combines all their high end technologies, such as Silver Gold metallisation, SUPREME and EVOLUTION winding technology and in the case of the Silver Gold Oil version, oil impregnation. These unique characteristics offer a capacitor type of equally unique musicality: finely nuanced and lively shining acoustic colours, which combine into a breathtaking, beautiful, live-like music experience with the utmost precision, presence and three-dimensional plasticity.
Mundorf guarantees low tolerances with the highest standards of safety thanks to their selfhealing properties. After running through our new top-quality winding process, the capacitor winding is potted by hand into aluminium tubes to minimise microphony. The directly gold-plated, asymmetrical pure copper wires make it possible to assemble it in a classic, horizontal style or vertical; the shorter lead also indicates the capacitor's outer foil.
Specifications
Dielectric: Polypropylene (PP)
Metallisation: 99% silver, 1% gold
tan ∂: = 0.0002@1kHz · 0.0001@10kHz
Max. ambient temperature: 85°C/185°F
19 values available- 1uF to 47uF
Rated at 1000V
Check product pages for exact sizes and price.
Subscribe to Hifi Collective