Mlytic SI - DISCONTINUED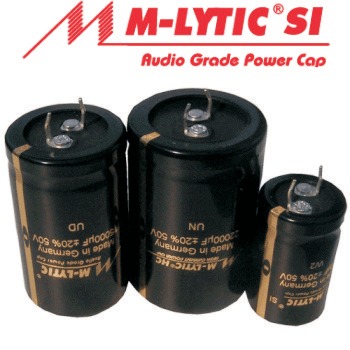 PLEASE NOTE: this is a discontinued line they are no longer available. Mundorf have made many improvements on this range in the form of the Mlytic AG and Mlytic AG+.

The MLytic® Audio Grade series have been especially conceived for power supply applications for solid state pre-amplifiers or small power amplifiers. They carry low ESR and ESL values and at a great price.
Specifications:
Long lifespan
All contacts welded
Compact size
Technical specifications:
Temperature range: -40 degree C to +85 degree C
Max. reverse voltage: 2V
Leakage current 5 min @ Ur:0.007 * C [μF] * U [V] + 6mA
Leakage current 1 h @ Ur: 0.15 * leakage current 5 min @Ur
Specs.: DIN 41332 IEC 384 - 4
Insulation: Heat shrinkable tubing test voltage 2500 VAC
Terminals: Snap In
Subscribe to Hifi Collective