Mundorf MCap Supreme EVO Oil Capacitors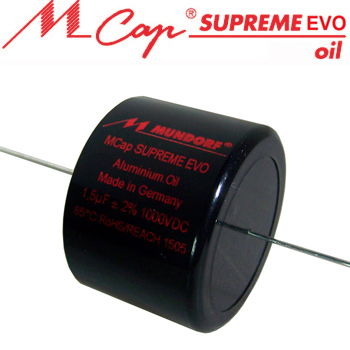 The MCap® SUPREME EVO range of capacitors is a complete new development for 2015 from Mundorf. It combines the
excellent impulse playback of the EVOLUTION winding technology, (as used in the incredibly popular MCap EVO, MCap EVO Oil and the MCap EVO Silver Gold Oil)  with the unsurpassed
holographic three-dimensionality of the SUPREME winding technology, (as used in the sublime MCap Supreme, MCap Supreme Silver Oil, MCap Supreme Silver Gold and the MCap Supreme Silver Gold Oil) in a
capacitor which is comparably cost-effective due to its aluminium metallisation.
After running through our latest and greatest winding process, the capacitors are potted by hand into aluminium tubes to minimise microphony. The asymmetrical leads make it possible to assemble it in a classic, horizontal style or vertical; the shorter lead also indicates the capacitor's outer foil.
this version benefits from oil impregnation of the metallised polypropylene film capacitors within a vacuum during manufacture. In this process, even the smallest air bubbles are squeezed out of the capacitor winding and any gaps within are filled and softened with oil. This results in reduced vibration internally, providing a sophisticated and highly dynamic detail.
These are second in the range is the Mundorf MCap Supreme EVOs
Specifications
Dielectric: Polypropylene (PP)
Metallisation: Aluminium
tan ∂: = 0.0002@1kHz · 0.0001@10kHz
Max. ambient temperature: 85°C/185°F
17 values available from 1uF to 47uF
Rated from 800Vdc to 600Vdc
Check product pages for exact sizes and price.
Subscribe to Hifi Collective