Mundorf MLytic AG Electrolytic Capacitors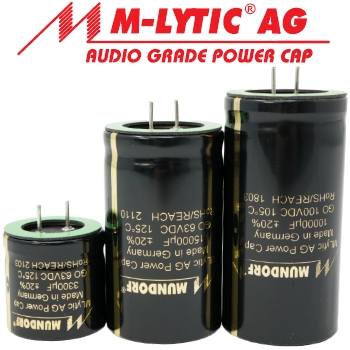 The MLytic® AG • Audio Grade Power Cap series is especially engineered for use in small power and pre amplifiers.
These capacitors offer non-magnetic, straight, tinned copper wires of diameter 1.2mm (AWG17)

They supersede the well-known MLSI series. The pitch of the terminals is 10mm and can be used in standard snap-in capacitor situations. Great for repairs and modifications.
The MLGO is the Glue-on series which has at it`s termination end, a vibration-reducing, traction-relieving, self-adhesive MPSA  mounting pad. This adheres to the PCB surface.
The MLPI, Plug-in series do not have the pad fitted. (Please note that Mundorf are phasing out the MLPI range, we have some remaining in stock and are selling them at a discounted price).
Check product pages for exact sizes and price.
Subscribe to Hifi Collective