Mundorf MCap Supreme Capacitors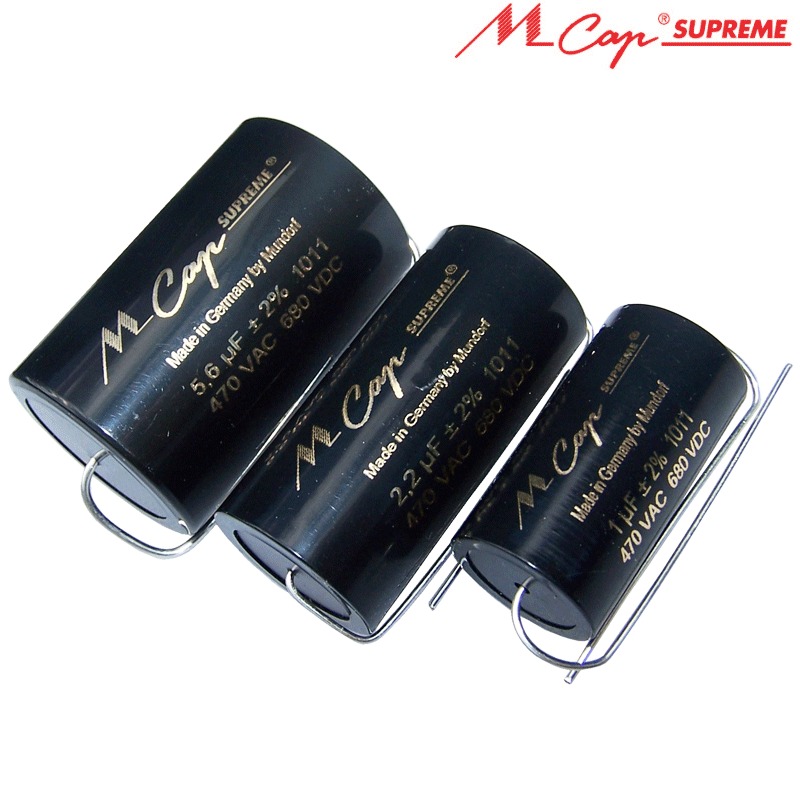 The MCap® SUPREME has been internationally acclaimed as the ultimate high-end capacitor. It is considered today by many users as a milestone in the modern audiophile capacitor generation. Its outstanding sound performance is achieved with a unique combination of advanced technologies - Special induction-free SUPREME winding technology.
These unique capacitors are very distinctive, physically and musically, giving the music a detailed, powerful sound with a large presence. Its subtle fine gradation of the high tone range invigorates the entire sound production, voices and instruments take shape and become extremely diverse.
Directionality: Due to the induction-free winding technology in Mundorf's supreme ranges, there is not a preferred direction of installation.
Capactiance: 0.1uF - 22uF
Voltage: 800Vdc - 1200Vdc
Check product pages for exact sizes and price.
Specifications
Dielectric: Polypropylene
Dielectric strengh: 800-1200 VDC
Loss factor: tan θ = 0.0002 at 1kHz; 0.0001 at 10kHz
Tolerance: +/- 2%
Subscribe to Hifi Collective